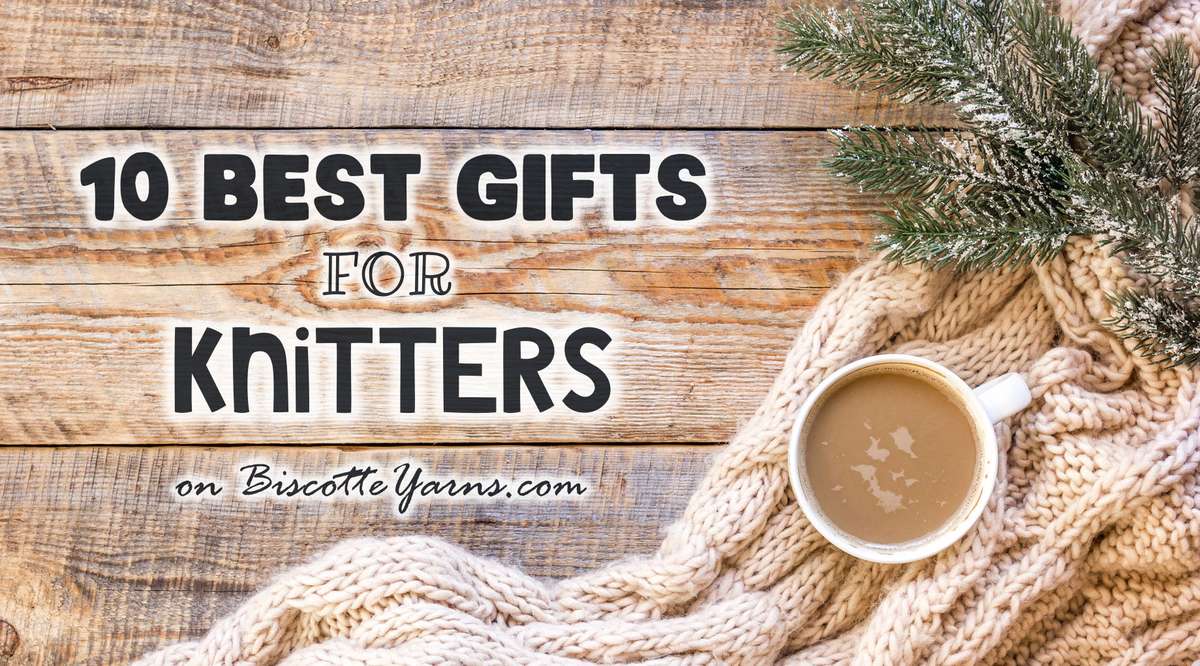 TOP 10 OF GIFTS FOR KNITTERS
FIND HERE UNIQUE GIFTS FOR KNITTERS YOU LOVE
Biscotte's Shawl Knitting Game
Biscotte's Shawl Knitting Game is a box filled with hand-dyed yarn, two dice and a knitting pattern to work a unique version of the Unpredictable Shawl!


How does it work? Simply roll the dice: one of them tells you which skein to use and the other shows the knitting pattern to follow ♥ Order this Knitting Game as a gift for a knitter you love or simply as a treat for yourself.

Each version of this shawl is UNIQUE since the knitting pattern is created with the dices. Like the 6 faces of the dice, Biscotte's Shawl Knitting Game is available in 6 color assortments of our most popular hand-dyed yarn.


Can not decide? Start playing now by rolling the
Virtual Dice Online
and choose the kit that matches the result.
Gift for Knitters #1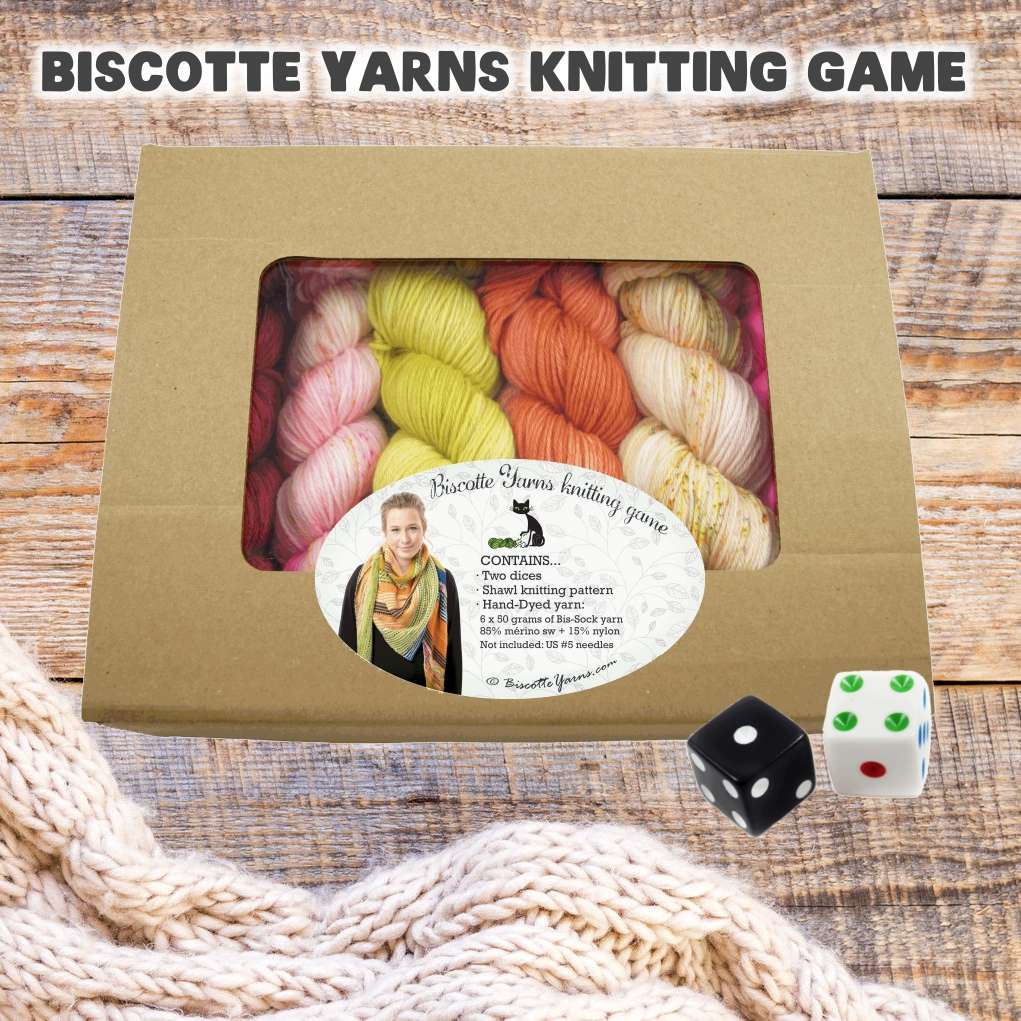 WIZARD SOCK KNITTING KIT
Yarn, Pattern & Project Bag
Knitters fans of magic and witchery will show their colors with our Wizard Socks Knitting Kit ♥ Including the hand-dyed yarn, the potion (also known as "knitting pattern") and a project bag handmade with the official Harry Potter cotton fabrics from Camelot Design Studio- Warner Bros.
Available in the following 4 houses:
GRIFFIN, BADGER, EAGLE, SNAKE

Each kit contains:
50 g of Bis-Sock self-striping yarn "Sorcerer Scarf " + 50 g "Sorcerer Uniform Griffin" (Both from the selected house colourway)
Sock pattern "Accio Wizard"
Project bag printed with selected house badges
Since Harry Potter printed fabrics are available in limited quantities, our Wizard Socks Knitting Kits are offered within the limits of available fabrics so order yours before it's too late!
Gift for Knitters #2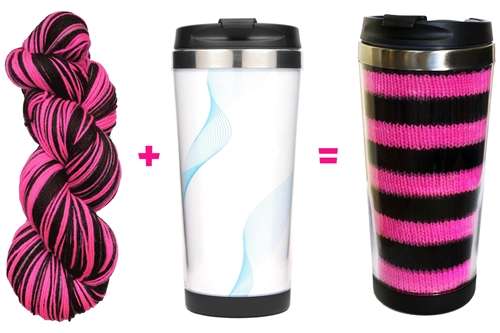 Knitters will Rock around the Clock
with Biscotte's knitting Cup
More than just a knitted or crochet coffee cozy, this knitting mug is a quick and easy project to knit. The knitting pattern comes in two versions: knitted in the round or knitted back and forth with a seam which make it easier to learn how to knit for beginners.


This kit contains a Insulated Stainless Steel DIY Tumbler Miyo®, a skein of our hand-dyed self-striping yarn and the knitting tea cozy pattern that fits into the cup. This tumbler will hold hot or cold beverages, and is customizable with a removable knitted cozy insert.


Gift for Knitters #3
Interchangeable Circular Needles Kit
The Interchangeable ChiaoGoo Twist Red Lace 5'' (13cm) Kit is the ultimate toolbox for knitters.

Each set contains stainless steel needle tips, three red cables lengths of 14"(35 cm), 22" (55 cm) and 30"(75 cm) as well as the following accessories: plugs for end of cables , T-shaped closure keys, stitch markers, needle gauges and a beautiful black fabric case decorated with white and red patterns.
Complete interchangeable kit comes with 10 tip sizes (from small and large kit) + 3 extra cables and plugs to fit both Small and Large needles. Also available in Small, Large and Mini version!
The gift for knitters that comes under the heading "satisfaction guaranteed"!


Gift for Knitters #4
Yarn Club makes a great gift for knitters: your yarn addict friend will get yarn and knitting instruction to work an exclusive project every two months. It is a yarn gift renewed throughout the year for worldwide knitters and yarn lovers.


Whether you subscribe a friend or you order it as a gift to yourself, know that knitters have never too much of hand-dyed yarn!

You can skip a renewal at any time while still retaining your club membership and cancel anytime.


Gift for Knitters #5
Shopping yarn or knitting supplies for someone else but not sure what to give them? Give them the gift of choice with a Biscotte Yarns gift card.


Gift cards are delivered by email and contain instructions to redeem them at checkout. Our gift cards have no additional processing fees.

The knitter in your life will get the perfect knitting gift here!


Please note: coupon codes or any other rebates are not applicable when ordering a Gift Card.


Gift for Knitters #6
Gifts for Knitters #7 to #10
The perfect stocking stuffer for your favourite knitter friend