How to knit a scarf without a pattern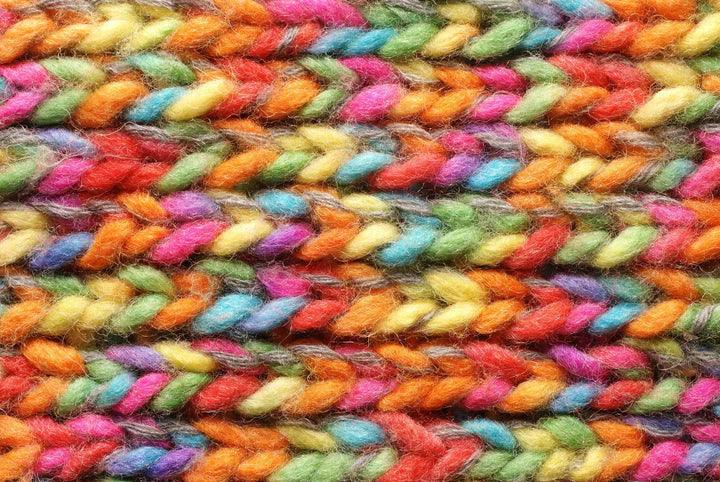 In our yarn store, we often meet beginner knitters who ask us if we have a pattern to knit a scarf or an infinity cowl.
There is no need to use a pattern to show you how to knit a scarf.  Just follow these following tips:
1- Pick a stitch pattern
First of all, you have to choose a stitch pattern.  You can find a lot of them on the web, for example on the website KnittingStitchPattern.com which contains a great directory of popular knitting stitches.
If you are knitting your first scarf, I suggest you to use the garter stitch pattern.
The Garter Stitch is one that allows new knitters to practice their hand and tension in order to obtain a beautiful knit made of regular stitches.  
You don't know how to knit garter stitch?  It's easy: when you work in back and forth rows, you have to knit every stitches of every rows in the same way until the end. You can watch this video that we have prepared for you here, showing you every steps you need from the beginning to the end.
Avoid side-rolling stitches such as stockinette stitch. Stockinette is achieved by knitting all the stitches on the right side of the work and purl all the stitches on the wrong side of the work.

Even if you block your knitting or knit a few stitches in garter stitch on each side of the rows, nothing can be done: the stockinette stitch rolls and rolls and rolls...!

If you really want to incorporate stockinette stitch into your scarf, you can do so by alternating with a garter stitch.
You can obtain a very original result as shown in the picture here.
Alternating stockinette stitch and garter stitch is also a very good exercise to learn how to knit and purl stitches.

The result is charming: beauty is often found in simplicity ;)
2- Choose the right yarn
This is the best and easiest part of knitting a scarf without a pattern: you can use any yarn you want without worrying about the yarn weight and the pattern.  To learn how to knit with joy, nothing better than to go with your favorite! 
To this, we add two "warnings":
Be aware that the finer the wool and the smaller the needle size, the longer the scarf will take to knit.  This is not a problem per se, but it is an aspect that should not be overlooked when learning to knit.  Some beginner knitters might get discouraged along the way and get bored of knitting the same project.  Psssst: If you ever find yourself in this position, bind-off your stitches and join the beginning and end of the scarf with a thin seam to transform your knitting into a neck warmer or an infinity collar!  You'll become a knitting star without anyone ever knowing you shortened your scarf!
If you're one of those people who puts everything in the washer without reading the washing instructions, make sure you select a yarn that has been treated to be machine washable. Superwash means that the yarn has been chemically treated to prevent felting so that you can machine wash your clothes. In all cases, it is best to dry flat.  
3- Calculate the number of stitches needed
Once you have selected your stitch pattern, your yarn and you know how to knit your scarf, you need to determine the number of stitches to knit.  
In the store, we are often asked what is the ideal width to knit a scarf.  There are as many answers to this question as there are people to wear them!  It's a matter of taste.  Here's a tip: choose a scarf you like in your wardrobe and measure the width.  
We will use the information below to calculate the number of stitches to cast-on:
A = Desired width, for example: 15 cm
B = Suggested gauge on the yarn lable, for example: 18 stitches = 10 cm.
Now we are going to use a mathematical formula:
First step : multiply the number of stitches of the sample by the desired width: 18x15=270
Second step : divide the result obtained by the width of the sample: 270÷10=27
So you need 27 stitches to knit a 15 cm scarf!  Obviously, this result is approximate since it can vary depending on your tension (if you knit tight or loose) and the stitch pattern you chose (ribbing or cables tend to make the knitting narrower) but it's still a good way to start. 
If you want to learn more about stitch patterns while knitting your scarf, you can get our free Underage wizard scarf pattern :)
This knitting pattern is perfect for beginners.  You start by working an easy stitch pattern and then new stitches are added as you progress.  You will learn how to knit garter stitch, vertical ribbing, horizontal ribbing, an openwork pattern, cables, moss stitch, honeycomb stitch and how to knit stranded colorwork.
Now that you know how to knit a scarf, grab to your needles and enjoy your knitting!