Yarn Clubs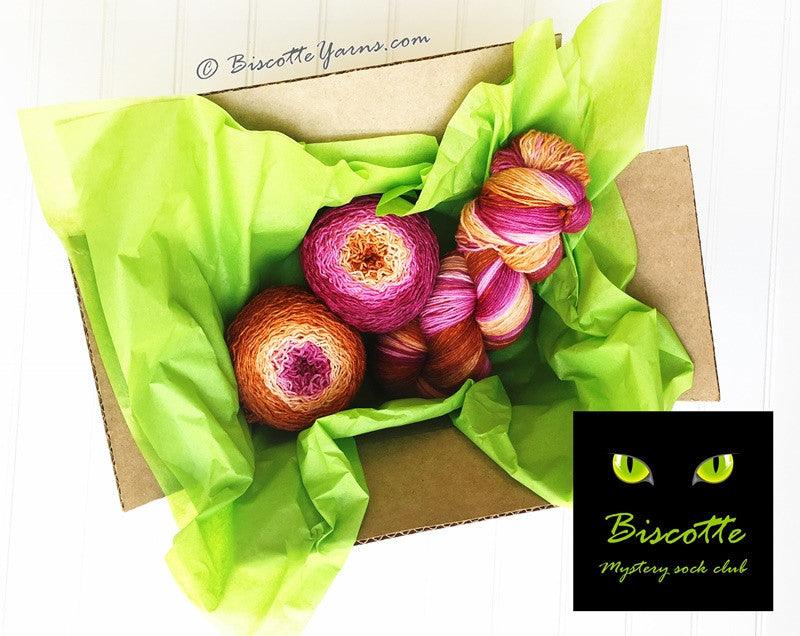 You've heard of book clubs or other "of the month" clubs. The concept is pretty cool. You sign up and each month you get a new book or whatever in the mail. It's makes a nice change from the junk and bills too. Yarn clubs are no different.
Biscotte's Yarn Clubs
You like to try out new yarns and fibers? Biscotte Exclusive Bimonthly Yarn Club is what you need!
When you sign up for Biscotte's Exclusive yarn club, every two months you'll get a fabulous box of yarn in the mail. Each yarn box contains two skeins of yarn which are limited edition. You'll also receive pattern suggestions perfect for the yarn you receive. Each box may contain self-striping, semi-solid, speckled, or variegated yarn. Each skein has been carefully hand-dyed, so they're all a little different.
Are you a sock knitter? Then you will want to subscribe to Biscotte Mystery Sock Club!
By subscribing to this Sock Club, you will receive one skein of sock yarn every two months and a knitting pattern to knit a mystery pair of socks.  You might get your sock yarn hand-dyed in self-striping, semi-solid, speckled or variegated colourwayand the pattern is sent in PDF format by email. Of course, you are free to use your sock yarn to work any other project as you wish since the main purpose of this club is to have fun and you are free to unsubscribe at anytime.
Our yarn club shipments go out on the first of the month, every two months. You can sign up or cancel at any time. You can also opt to skip a month. This photo is the first Exclusive yarn box we sent out this year.
Yarn Club Benefits
In general, participating in a yarn club has many benefits.
You Won't Find it in Stores
Many yarn clubs, including ours, send out exclusive yarns to club members. Your fellow yarn enthusiasts won't find the yarn in stores, at least not yet. In some cases, yarn club members receive short run yarns or "beta test" yarn concepts before they're released to the larger market.
Knit or Crochet without the Hassle
Skip the store and the crush of the crowds. Joining a yarn club means the yarn comes to you – just in time for each project. Instead of driving to a store and waiting in line, all you have to do is walk to your mailbox.
Surprise in Every Yarn Box
That little swell of excitement and anticipation you get before opening birthday or holiday gifts? Joining a yarn club means you can have that feeling every couple of months when the new shipment arrives.
Tap into Creativity
When the yarn club box arrives, you'll receive yarn skeins you might never have purchased in the store, but since you'll also be receiving pattern suggestions with your yarn box, you may find yourself to use yarn colors and styles you wouldn't have otherwise used.
Ready to get a yarn club surprise in your mail box? Sign up today.