Sunny with a Chance of Jogless Stripes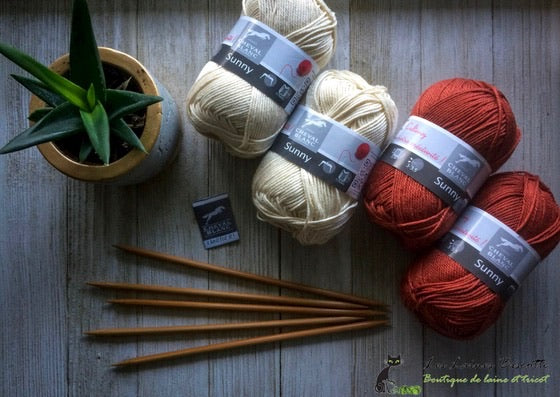 I am so excited to finally be knitting my Bobbie sweater by Pam Allen. This is one of the summer tops that I've had in my mind to knit since LAST summer, so I've decided not to let another year go by without adding this adorable top to my knit wardrobe. I am completely obsessed with stripes and until I learned how to properly knit them I sadly avoided anything with stripes in it. As I knit all the summer tops I have in my mind over the next few weeks you're going to find one thing that they all have in common: the shape. If it resembles a box.....I'm totally into it!
So this top has two of my favorite things: stripes and its boxy shape. I was pleasantly surprised by the yarn I chose as well. I'm using Cheval Blanc's Sunny which is now available exclusively at Biscotte Yarns. It's 100% mercerized cotton. Cotton is so ideal for the summer as it draws heat away from the body and keeps you cool. This particular cotton is even more beneficial because it's mercerized which means that it is better able to absorb moisture on the skin. With the high humidity levels here in Newfoundland let me just say that alone is enough for me jump on board!! Add in the pleasant sensation of cool, dry, naturally antibacterial, with having the advantage of having a beautiful natural fiber in contact with your skin. Sold yet?? It gets better! Mercerized cotton is better resistant to tearing and abrasion, and even after many washings, it will not pill. Music to a knitter's ear! I've always considered myself a bit of a yarn snob, looking for higher price points vs. low price points (let's hope this is one of the blogs my husband decides to skip out on LOL) but this yarn has a low price point with a very high quality AND feels like butter ladies!! WIN WIN!!
I wanted my sweater to look as close as possible to the one in the actual pattern. I love the rusty orange with the cream stripe. And since Sunny comes with lots of color options to chose from it was easy to find what I was looking for. I'm using Copper 151 and String 059. I really love the results so far and I'm enjoying knitting with this yarn very much!
I mentioned that in the past I would avoid a pattern with stripes and that's because I was never happy with the end result. When knitting in the round, you're actually knitting in a spiral. So stripes never line up unless you make them line up. Personally I think that having jogs in your stripes really takes away from an otherwise beautifully knit piece. Now, I know knitters who will knit their stripes round and round and are not bothered by the jogs whatsoever. That's completely okay too. It's what you are happy with. I am a little neurotic when it comes to my knitting LOL The teeniest mistake will haunt me and it could be at the beginning of my work and I could be at the end.....I will take it all out and start again!
So, for the knitters who would prefer not to have any jogs in their stripes, you can see the technique I used in the video below. This really is the easiest way to avoid jogs but the reason I made a video was mainly because I had a difficult time finding videos that had a one row contrasting stripe within multiple rows of a main color. I like to find new techniques, however in this case this is definitely the best one for this row pattern. When I knit my tube socks, I had multiple rows of the contrasting color within the main color and I used a different technique. There's quite a few different ways of creating jogless stripes, it's all about finding one that suits the pattern you're knitting and which one you like the best.
As you can see, it's very simple. Just slipping that one stitch will create beautiful straight lines. There are no slipping stitches in the main color, just that one stitch of the contrasting color at the end of the round. Something so easy can help take your homemade knits to handmade.
This sweater has a construction that I don't think I've done before. I think I could design a sweater myself that would have a fairly basic construction. But when I knit up some of these patterns it leaves me feeling like these knitwear designers are absolute geniuses. I wonder how they come up with it! It's the single most fascinating thing to me. I love it!
I thought I could bust this one out in a week but it's taking me a little longer. Once you get to the point where you break away to start the front and back you start knitting back and forth which is great news for the stripes! You no longer need to worry about jogs.... not that slipping one little stitch was very complicated! It's recommended to break the yarn and not carry up the sides and it really was necessary. There's a little trick that you can do to weave your ends in as you knit a row (perhaps another blog) but honestly I really don't mind weaving in my ends afterwards, to me is just another part of the knitting process that I enjoy. Instant gratification once again! Weaving in ends so precisely that they are virtually hard to spot. AHHHHHHHH...............
I will tell you that my best friend for this knit has been my Clover yarn cutter pendant. I put it on a chain and have had it around my neck for the past week and a half! You will NEED this dandy little tool when breaking away to start the front and back...trust me. Unless you enjoy scrambling around looking for your scissors like I do most of the time.....even when they could possibly already be in my hand LOL
After finishing this sweater I know it's going to be worn A LOT. It's me. The wide body with a drop shoulder and a snug little sleeve.....CONVINCED it was invented for me! And of course the stripes.....Can you also see this in a navy and white stripe? It would be very nautical for the summer. Keep in mind if you're not into stripes, knit it in on solid color. It's really a great knit and flattering fit. I highly highly recommend grabbing Cheval Blanc's Sunny yarn for your next summer knit. I have to say it was amazing to knit with. The stitch definition is incredible and BUTTER ladies.....BUTTER!!!
Have you knit this pattern or knit with Sunny before? I'd love to hear about your knitting projects this summer!!