My First Knitting Project: Knit Scarf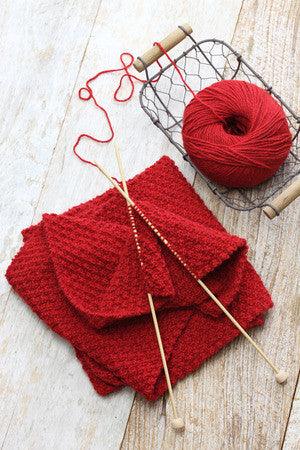 The Scene
I'd wanted to learn to knit for years. Finally, due to some life changes and a desire to do something just for me, I walked into the yarn shop for my first lesson. I was nervous and unsure what to expect. I was concerned I might be the youngest person there and wasn't sure how well I'd fit in. I needn't have worried – the beginners group was a wide range of ages and they were very welcoming.
My Introduction to Knitting
Task one, learn to hold the needles and understand knit and purl. Thankfully, that didn't take long. Then came the fun part – picking out the yarn for my knit scarf project. I chose a medium thick variegated pink wool thinking it'd make a nice gift for my grandmother whose favorite color is pink. Yeah…that whole gifting it part didn't really happen.
Knit Scarf Pattern
The pattern I was given was written by the yarn shop owner and meant to be used by beginners to master the basics such as yarn tension and learning to "read" the yarn. When complete, the edges would be garter stitch and the inside was a stocking knit with a stripe of reverse stocking knit up the middle. It took me about half way through to scarf to really feel like I had it down and then I had to add on my next yarn ball! As if making a knit scarf wasn't hard enough.
Eureka!
By the time I was done, I felt like I could knit anything. I couldn't, but that's another matter. Making a knit scarf was a great introduction to the fabulous world of knitting. The repetitive nature of this first pattern also showed me the meditative quality of knitting and helped me deal with the life changes I had happening at the time.
Moving Forward
Over the years, my expertise grew and I decided to earn some extra money by teaching knitting. My project for beginners? A knit scarf, of course. As much as I, and all my students, want to dive in a make a hat or sweater mastering the basics is vital. Spending the time knitting a scarf means they get to master the skills necessary so that the sought after sweater or hat comes out looking great.
My Favorite Knit Scarf Patterns
Everyone has a preference for the things they like to knit, the yarn and needle sizes they prefer, and the type of yarn they like to use. It turns out, knitting scarves is one of my favorite projects. I love patterns that are repetitive and easy to memorize. They let me kind of zone out while working on the project.
I also really enjoy making warm weather scarves. Knitting scarves that are lacey or silky brings a new level of excitement to the more traditional winter knit scarf. The finished project is something suitable for a night out or to dress up an otherwise drab outfit.
Ready to try an intermediate knit scarf? Check out this cool pattern.