How did Louise Robert go from hobby knitter to yarn company owner with 5 local yarn shops?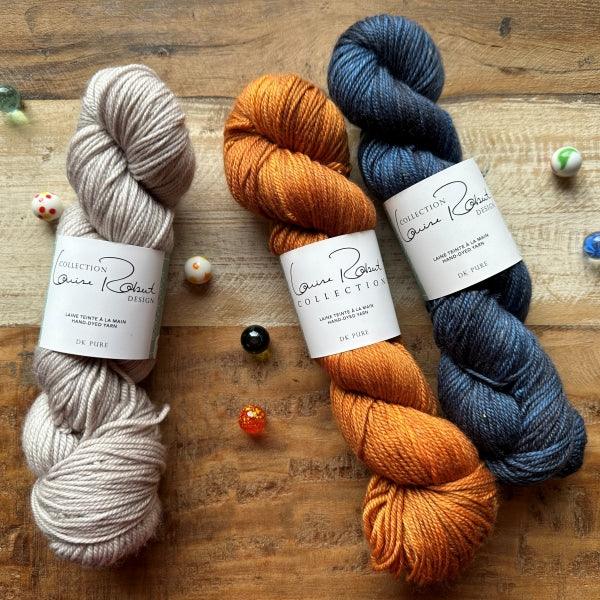 Biscotte & Cie has grown from a small home hand-dyeing business to a thriving enterprise with 3 hand-dyed yarn lines - Biscotte Yarns, Louise Robert Collection and PatricKnits - which creates an average of 55 knitting patterns and crochet designs per year.
In addition to producing exquisite hand-dyed yarns and patterns, Louise Robert and her husband Patrick are proprietors of five yarns shops – 4 in Canada and 1 in the US, in Northvale, NJ. How do they do it all? I chatted with Louise to learn a bit more about Biscotte Yarns and how it has grown.
First of all, did you choose the name Biscotte because of your love of biscuits?!
No, Biscotte was actually the name of my cat at the time I started my blog Biscottecie.com/blogue. I was at home with young kids and began dabbling with dyeing yarn for fun and sharing that and my knitting projects on the blog.
How did that evolve into the business it is today?
I started by dyeing yarn, mostly self-striping yarns, in 2007, under the name Biscotte & Cie. I was a young mother, so I was attracted to happy and bright colors, and movie and cartoon characters. As I got into more sophisticated palettes and combinations, my husband Patrick suggested that I launch a new collection under my name, Louise Robert Yarns. And, of course, he had to add his own line, PatricKnits!
Dyeing yarn led me to write patterns to show what could be knitted with these yarns.  And, voila, this "hobby" has grown into a company that now has 5 shops, 2 websites and a head office in Canada attached to a dye workshop.
How has your designing changed over the years?
Early in my design career, I wrote a lot of sock patterns.  I had a lot of fun playing with the shape of the socks to showcase the stripes of our self-striping yarns.  Since socks are worn inside shoes, I felt less intimidated to write this type of pattern.  Socks are not a "serious" garment: They can be silly and leave room for imagination, and that's okay!  Plus, they are small projects that can be done quickly, which is always a plus when you start knitting.
During this time, I also taught knitting, which had an impact on my pattern writing.  It led me to be more detailed in my explanations, knowing what knitters might have trouble with.  After a few years, my interest evolved towards more elaborate sweaters and shawls.  Now I am much more resilient when I knit and long-term projects don't scare me anymore!
In general, accessories are more popular with people who are just starting to knit, and garments such as sweaters are more likely to attract experienced knitters. That said, there is no one type of garment that is more popular than another: Luckily, there is a knitter for every design!
Of all the designs you've done, do you have a favorite?
That's like asking who your favorite child is!  But without saying it's my favorite, I think the model I'm most proud of is the Stitch Surfer.  I think it was the first pattern that put me on the map as a designer: it was published on Knitty.com and I think it became a classic because people are still knitting it today.
Do you see any upcoming yarn trends and knitting styles?
My daughter, who is in her early twenties, has started to get interested in knitting, and she keeps up on fashion trends more than I do.  She introduced me to a new trend that is emerging on social networks: clothes knitted with bulky, thick & thin yarns, mixing textures, and an attraction to the imperfect look of knitting. You can find examples of this style on Instagram with @Va1sseau or @sulkknitwear.  And, as seen in European cities as well as ski slopes, balaclavas will continue to be very trendy this year!  
It seems like having a yarn and design business is demanding enough, what made you decide to add yarns shops to the business plan?
The day we decided to open our first yarn store was the day we realized that no one was better than us at representing our products.  The boutiques allow us to distribute our products locally in addition to offering other popular yarns and knitting supplies.  This channel is essential to spread our brand and has been so successful that we keep opening more!
Your background is in Art History, isn't it? How has that influenced your business?
Art history was my "first love", long before yarn and knitting. I've always relied on art for my inspiration, along with my life and what defines me, my interests, and my favorite things. Integrating all of these into my collections of yarn was only natural!  I am inspired by specific artistic movements, works of art, or artists I admire, but I do not limit myself to pictorial art.  I also sometimes find inspiration from actors or famous people who have moved me or provoked a reflection in me.
The creative aspect of our business is what has driven me since day one. I find a creative aspect in almost every step of the process: dyeing yarn, designing patterns, creating and developing our websites, writing texts, and special projects like advent calendars, promotional items, and social networks... If only there were more than 24 hours in a day!
Speaking of which, the amount you do is hard to fathom! Do you have any tips for juggling so many things?
I try to find tools to get organized: applications to manage my different projects, social networks, communication, and automation apps as AirTable, Zapier, DeepL. Marketing is also a passion for me, and I am subscribed to a few newsletters as Checkoutweekly.com, NeilPatel.com and Ariyh.com so I don't miss anything that is going on in this field.  It's not always easy: I admit there are days when I get frustrated not having enough time to do everything I want to do. With time and by force of circumstance, I had to learn to delegate and accept that things can't always be perfect.
You can follow Louise Robert and PatricKnits on their individual Instagram accounts and get all the latest news by following the Biscotte Yarns account or by subscribing to the newsletter here!