Delicious Hand-dyed Yarns and Alternating Skeins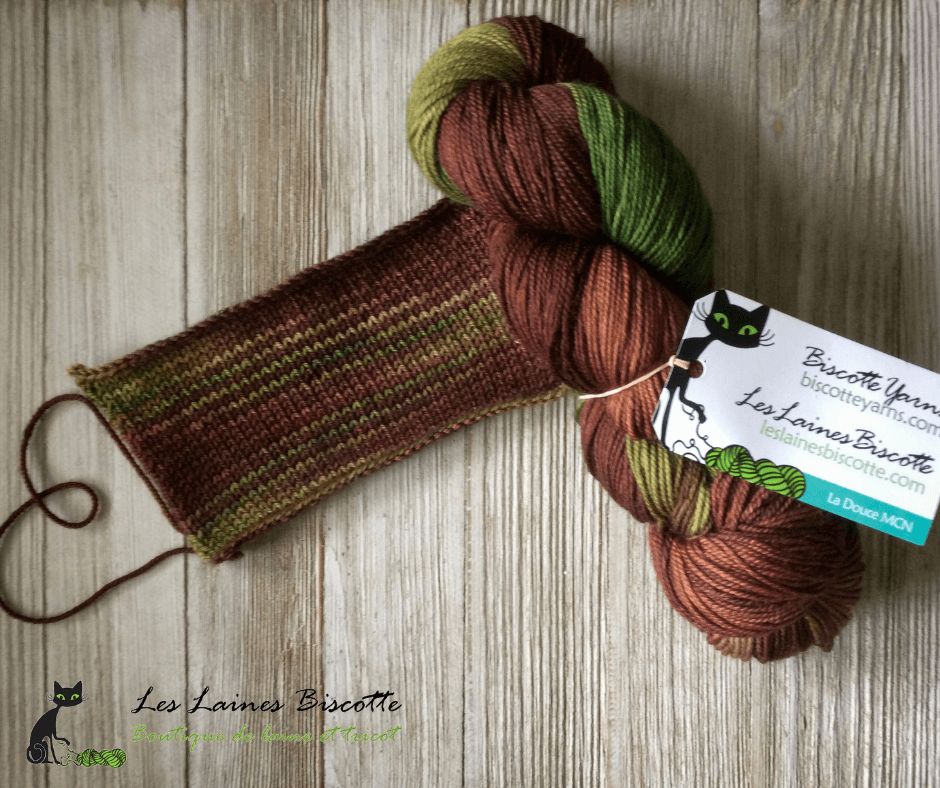 The most wonderful time of the year is upon us....sweater weather! It's time to take out your woollies or knit some new ones! I'm all about knitting some new ones and I've got a goodie on my needles :)
It's no secret that I have a little obsession with Biscotte's yarns and an even bigger one with their Limited Edition hand dyed yarns. They are phenomenal!! And with the best season of all here, sweater season, the yummy cold weather yarns are jumping up and down on store shelves because they are going to finally going to be chosen to get on some needles! I love this time of year and I love the yarns that comes with it. A nice warm sweater is like a great big hug... and who don't love hugs??
I'm knitting a very special sweater with Biscotte's La Douce MCN. "La Douce" means "soft" and when I tell you that this yarn is made with Merino and Cashmere you will understand how that name came to pass! Soft Merino Cashmere Nylon; and oh so soft it most certainly is!! This is a yarn that you will most certainly want to get your hands on and knit with. With so many lovely colors to choose from I couldn't resist this gorgeous limited edition brown and green skein of pure loveliness.
I have been a very big fan of hand-dyed yarns for quite some time now and I learned the hard way that if you're knitting with more than one skein of the same color you need to alternate skeins. I remember my first time knitting with hand-dyed yarn, not realizing I needed to alternate the skeins, the front of my sweater had one big area that almost looked as if it was wet compared to the rest of the sweater. I know now that is when the color pools which is why alternating skeins is so important. 
There are different methods for alternating skeins and I tried a few of them finding only one that really passed my "invisible test". I know that I'm alternating skeins with hand-dyed yarn but that doesn't mean I want the whole world to know it! And the funny thing is the one I found to work the best for me was probably the easiest method. No need to complicate an uncomplicated situation!!
Step 1: I alternate my skeins every 2 rows. The green strand in the first picture is the yarn that I've just finished knitting my round with. The brown stand is from 2 rows below and is what I now want to start knitting with.
Step 2: First I move the green strand over towards the left-hand needle.
Step 3: Then pick up the brown strand from 2 rows below so that it will cross over top of the green strand.
Step 4: Start knitting with the brown strand keeping a very loose tension; if you pull too tight it will pull the stitch that it last knit 2 rows down and it will look much smaller than the rest of the stitches in that row. I usually keep a loose tension for the next 3 or 4 stitches and then go back and snug up the other strand of yarn and even out my stitches with another needle if need be. 
Here is what the back of your work will look like. Very neat and tidy yet only evident on the reverse side of your work.
As you can see from the front there's no evidence that I alternated skeins! The method I've demonstrated in the photos was for knitting in the round. Of course if you are knitting flat the strands can be carried up the side of your work. Even though it's not visible to the eye that I've alternated skeins I will still make sure it's either on one of the sides of my work or in this case, it was in the back. Once I separate for my sleeves I will move to the side of my work.
And of course as I mentioned above I have a goodie on my needles! This is a design of my own and can only once again provide you with a little sneak peek into a small but very adorable detail of my sweater!
The inspiration for this design came from the yarn and its earthy colors. I love nature inspired knits and when I seen this yarn I just knew I had to knit something leafy and feminine. La Douce MCN which is a sport weight yarn will provide just enough warmth before we get into the real cold that is to come! And being so soft it will be one that will require no barriers; next to skin it is!!
Do you enjoy knitting with hand-dyed yarn? If your answer was yes, share your favorite technique!