A Beginner's Guide to 6 Different Types of Yarn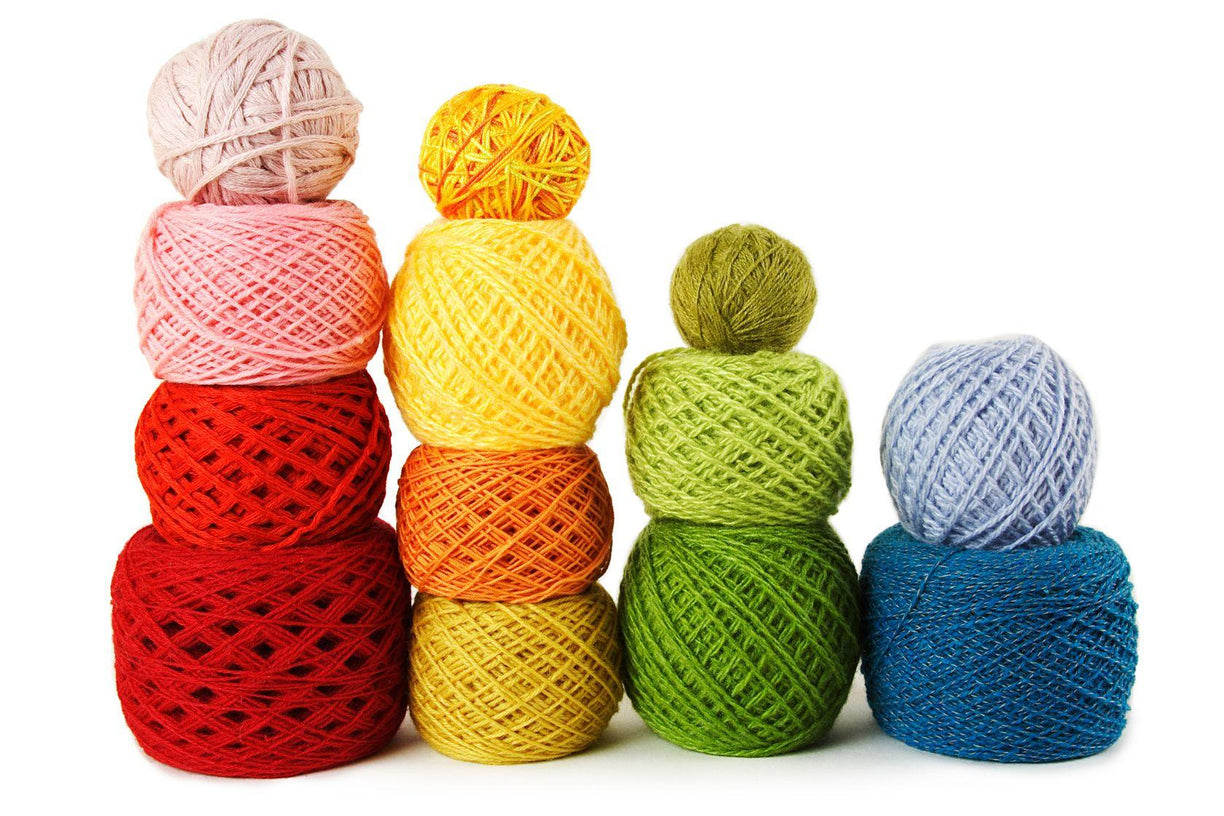 Sock yarn, self-striping yarn, knitting patterns – oh my. Prior to knitting, yarn was just yarn but as you start to indulge in this new hobby, you'll quickly see that there is no shortage of options when it comes to materials.
With baskets overflowing with all kinds of yarn, it can be difficult to know where to start. Fortunately, you've come to the right place. Here is a breakdown all of the different types of yarn and what each will do for your knitting aspirations.
Sock Yarn For Feet
Just as the name reads, sock yarns are for the kind of knitting designs you intend to be placed on feet. More specifically, this term refers to the weight of the yarn. You wouldn't use the same yarn for a chunky knit sweater as you would for a pair of socks and that's because of the way the material needs to fit.
The most common sock yarns are DK weight, fingering weight and worsted weight, and they can typically be found in any fiber you desire. So, whether you want to craft some bulky winter knee socks, hiking socks or soft, traditional socks, sock yarn is where to go.  
Self Striping Yarn For a Colourful Change
Throughout our yarn website, you'll hear a lot about self-striping yarn and that's because it's a huge trend. Self-striping yarns are yarns that have various colours woven together to create a stylish appeal. The colours change throughout the knitting designs, allowing every piece you create to be unique in its own way. Self-striping yarns are often used to create scarves, socks, hats, mitts, blankets – you name it.
Hand Dyed Yarn for True Handmade Creations
You'll also come across several hand-dyed yarn varieties. These are excellent knitting materials for the true artisan out there, as each piece of yarn may not be identical to the next even if they come from the same dye. This is important to know if you intend to knit 100% identical pieces.
The benefit of using this type of yarn is that it emits exquisite, hand-crafted beauty that you simply can't get from brick and motor stores and products.  
Yarns from Animals
Yarns come from many different places, and some are even made with animal-based fibers from sheep (as the merino wool), llamas, goats (cashmere and mohair), alpacas, etc. Each has their own unique characteristics and softness. However, it's important to know what type of animal the yarn is made of, as this can instantly determine whether or not you want to use it.
For example, you may not want to use animal based yarns that are produced unethically and unnaturally from animals such as rabbits and foxes. This is a very important thing to consider, especially if you're knitting for profit. Everyone appreciates yarns that are naturally provided by animals, such as wool from sheep, but the same can't be said for all the rest. 
Plant Producing Yarns
Plants are also great sources of yarn that don't harm the environment in any way.  These are a huge trend in today's knitting industry, as people are starting to prefer natural, safe materials as opposed to synthetic ones.
Some common types of natural plant-based yarns include cotton, bamboo, hemp, silk & seacell. Each have their own level of softness, which can help you determine which one is best for your knitting designs.
Synthetic Fibers is Great for Starters
While synthetic fibers aren't always the most common type of yarns used today, they still hold precedence and can be perfect for your knitting designs. These types of yarns are typically acrylic, which is an inexpensive and machine washable option, making them ideal for many knitting designs. They're also a great yarn to start with if you're a knitting beginner.
And that's not even getting into the true depth of the different varieties of yarn available across the industry. From speckled yarns to solid tones, lace to bulky yarn weight, everything you need to knit up your knitting designs can be found on Biscotte Yarns. Join our mystery yarn club today and enjoy new yarn to turn into a unique knitting patterns on the regular. You just never know what you're going to unravel.